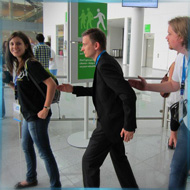 The top Infiltrator of each month, as well as mentions of the 3 next-best infiltrators, will be featured here on our website. These infiltrators are the ones who were the most helpful during the past month of development, from finding bugs to helping to manage the community.
Well, what does a good Infiltrator do?
The ideal Infiltrator helps the development and success of Novus Aeterno through such means as: forum use, bug reports, working with the community to develop guides or content on a specific topic – that sort of thing. Even just playing the game is helpful. There's a lot to do in regards to furthering the development of Novus Aeterno, for instance:
Forum guides – Dedicated to helping players understand or get a better idea of a specific element of the game, each guide on one specific topic.
Bug Reports – Reporting bugs or contributing to the discussion of known bugs.
Community support - Actions which help develop the community as a whole.
Battle logs – A detailed after-action log of a battle 'staged' in order to determine activity and gameplay balance and design.
There are many other ways in which a good infiltrator may prove his worth; all the same, becoming The Top Infiltrator will require hard work and dedication, so get to it, people.
The past month's top infiltrator is "Pseudo". He's a perfect example of what a good infiltrator must be and do, and has therefore been awarded the "Infiltrator of Merit" medal. He sent in a considerable amount of bug reports, helped new infiltrators into the game, and posted thread after thread in the Infiltrator forum on how to post and differentiate between bugs, suggestions, etc. He's even shown willingness to make game-play videos, and his feedback regarding improvements to the game and forum was just plain helpful. Thank you, Pseudo!
I would also like to thank the top Infiltrators for their support and dedicated hard work during the past month. All your bug reports and suggestions are so welcome. We look forward to continue working with you guys.
Our dream game is coming to life, but our dream game is HUGE and we're but a small studio comprised of gamers. Without our community's support and assistance we would never be able to pull this off.
The Infiltrator program is important to us, and feedback from our fans is extremely appreciated. We would never be able to complete Novus without our fans.